Rates
30 minutes: $60
60 minutes: $90
90 minutes: $115
120 minutes: $145
Chair Massage Rates
15 minutes: $25
30 minutes: $45
Receive $10 off for each referral that books an appointment
While other therapists establish a standard routine for massage, we believe each body deserves unique attention. We start every massage with a conversation about you, and customize your session to target your needs and requests. As a result, our clients receive a significant return on the investment they make in themselves.
Neuromuscular/Trigger Point
Trigger points (knots) in the muscles are the source of a great deal of pain and dysfunction in the body, including stiffness and even joint pain. Based on the work of Dr. Janet Travell, trigger points are deactivated by applying concentrated pressure to the muscle or connective tissue to break the cycle of spasm and pain. Very effective for the relief of pain, restoring mobility and flexibility.
Myofascial Release
Using long, deep, gliding strokes, restrictions in the muscles and fascia (connective tissue) are released, allowing the body greater freedom of movement and improved body mechanics.
Hot Stone Massage
Hot stones are used throughout the massage to "melt" away muscle stress and address specific problem areas with more detailed work. The heat in this massage is very soothing, facilitating total body relaxation.
Swedish Massage
A combination of long strokes, kneading and friction on the most superficial layers of the muscles. Swedish massage relaxes the muscles, reduces stress, improves circulation, and eases aches and pains.
Pregnancy Massage
Great for all phases of pregnancy, including post-partum, to help maintain muscle and skeletal balance, improve circulation, reduce aches and pains, rejuvenate and energize the entire body. Our therapists are specially trained to position you safely for optimal comfort and effect during this special time.
Chair Massage
You are comfortably seated in a specially designed chair, and the therapist works on you over your clothes. A great choice for a quick refresher.
Himalayan Salt Stone Massage
Himalayan salt stones are warmed and massaged over the body to ground and balance the body's electromagnetic field and central nervous system. These hand-carved salt stones harmonize and revitalize to gently soothe away an accumulation of stress and tension to bring the mind, body and spirit into balance. This results in very deep relaxation, improved sleep, reduced inflammation and a sense of emotional peace.
---
On-site Chair Massage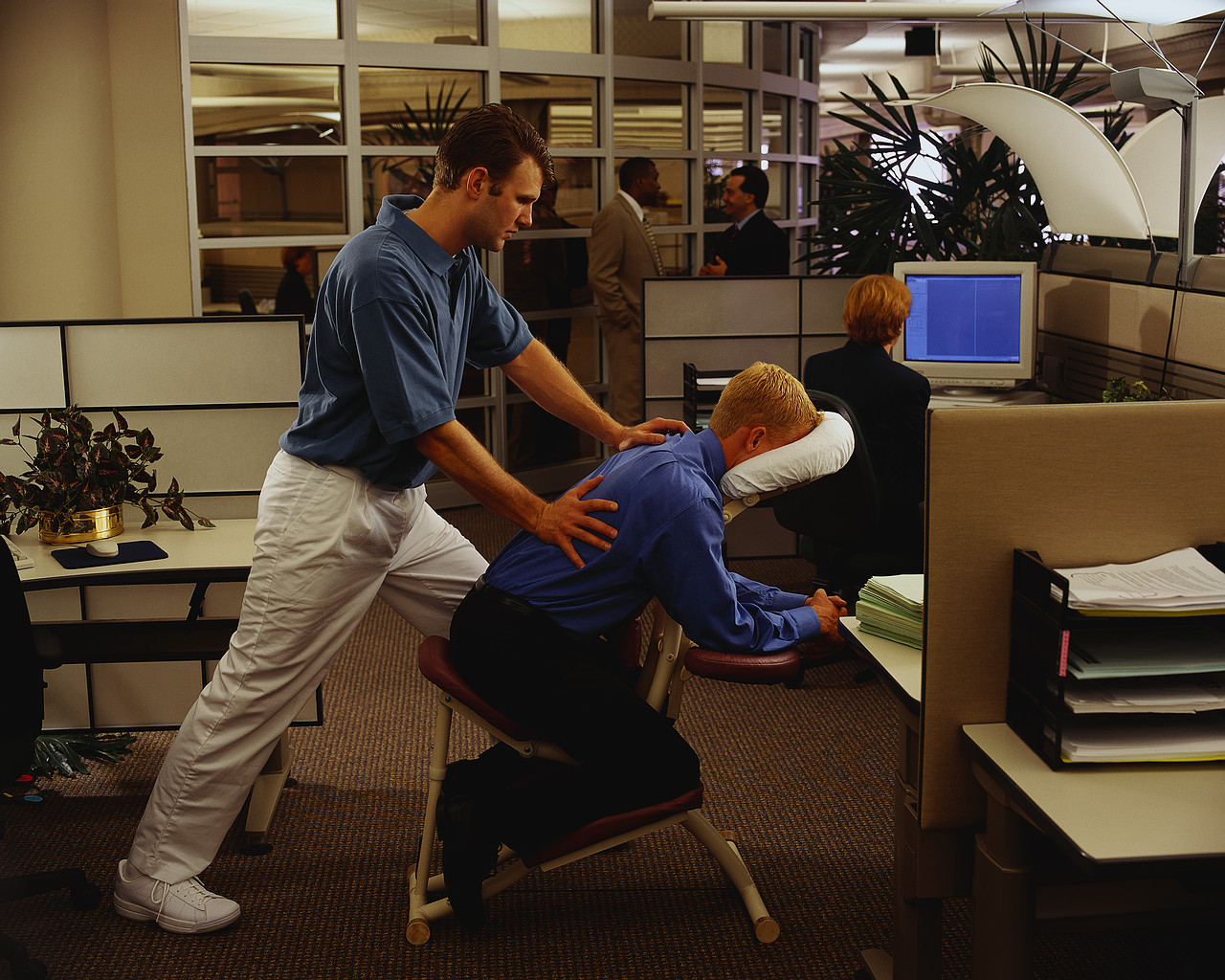 We bring our expert services to you. Clients are seated in a specially designed chair, allowing access to the high tension areas of the back, head, neck and arm areas. The massage is done directly through clothing with no oils involved. Most sessions take 10-15 minutes but may last 30 minutes if desired. Results
include:
stress relief
increased mental alertness
reduction in repetitive stress injuries
improved employee morale
decreased absenteeism from work
better job performance
Chair massage in the workplace is a great idea for employee incentives and promoting wellness programs. It can also be used for marketing at corporate
events, tradeshows, conventions, or outdoor settings. Each arrangement is unique so call us today to discuss your ideas.